Relatório de Surf, Previsão de Surf
Delaware Buscador da Ondas:
Swell com condições favoráveis de vento
United States Buscador da Ondas
Swell com condições favoráveis de vento
Procurador global de ondas


Forte swell com vento leve ou terral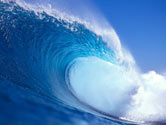 Locais de surf em <span class="im">sua área*</span>
* Nós determinamos sua localização geográfica aproximada pelo endereço de IP, o qual sugere estes spots de surf mais próximos. Clique nos nomes abaixo para ver mais informações e previsão para as ondas.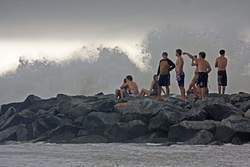 Crédito da foto: Bill Reilly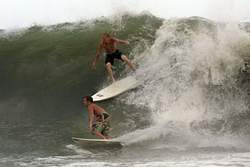 Crédito da foto: Bill Reilly

Andre

Flat!

Flat!

Coolum:

'Coolum surf: 1.4 metres(5') 10 knots SE. The S protected stretches and E facing points early on the dropping tide before the ESE winds get up. Fun ones in the outer bays at Noosa also on the dropping tide.'

Ninguein

Small, kooks
Últimas críticas enviadas
Barrao spot de surf:
"Funciona somente na maré seca ou secando, maré cheia as ondas ficam mtt buraco. Para swell de leste tem uma onda de linha bem fácil e boa para manobras. De sul tem ondas bem pesadas e bem para tubos."

Lucas de BRAZIL - 23 Sep 2020
Pompeia spot de surf:
"Funciona na mare cheia. Bem constante, porém quase sempre fechando muito, ideal para bodyboard."

Lucas de BRAZIL - 23 Sep 2020
Busca Vida spot de surf:
"Busca Vida é uma praia do litoral norte de Salvador,e fica há aproximadamente uns 12km do aeroporto.
A praia pertence ao municipio de Camaçari e é famosa por suas ondas perfeitas.
Busca vida e sua extensão completa deve dá uns 8 a 10km de praia. E varios sao os picos. Desde uma ponta a outra.
Começando então no sentido sul/norte, busca vida tras logo de cara o pico 28, conhecido pelos antigos locais como ' nina rodrigues'. Nina rodrigues é o nome do necroterio de Salvador. E a onda foi apelidada assim prque quebra so em maiores condicoes. Normalmente de sul, e fica bem tubular. Surf pra os mais experientes quando grande.
Do 28 até o 42, que o pico mais conhecido e constante, dão quase 2km de costa e por ai se acha boas ondas tambem.
Mas vamos à famosa onda de busca vida. A onda do 42, antiga praia das tartarugas pra os mais antigos.
Essa onda é classica e de sul funciona muito bem. Existe la fora o coral de busca, que é uma esquerda impressionante.
Nesse mesmo coral, abre uma direita longa e tubular.
Busca vida grande é pra poucos.
Alem disso, o inside de busca vida , beach break raso e compacto, promove tubos inesqueciveis.
Comecei a surfar em Busca vida com 13anos em 1993. Pra mim um privilegio e só boas memorias de mares vazios , agua crsitalina e tubo. Muito tubo.
Ah...
Quase me esqueço:
Local, nativu de Busca Vida são as tartarugas e cações, corais e carcarás.
E é isso pra os "locais" que residem la."

Leandro de BRAZIL - 21 Sep 2020
Uma Nota Sobre Spots Secretos
Fazendo esse site,nós procuramos incluir dados para as para de surf mundiais. Se alguém sentir que nós acidentalmente expusemos um lugar secreto,diga–nos e se concordarmos que é secreto,iremos tira-lo do ar.